There is little public appetite across the world for building new nuclear reactors, a poll for the BBC indicates.
In countries with nuclear programmes, people are significantly more opposed than they were in 2005, with only the UK and US bucking the trend.
Most believe that boosting efficiency and renewables can meet their needs.
Just 22% agreed that "nuclear power is relatively safe and an important source of electricity, and we should build more nuclear power plants".
In contrast, 71% thought their country "could almost entirely replace coal and nuclear energy within 20 years by becoming highly energy-efficient and focusing on generating energy from the Sun and wind".
Globally, 39% want to continue using existing reactors without building new ones, while 30% would like to shut everything down now.
The global research agency GlobeScan, commissioned by BBC News, polled 23,231 people in 23 countries from July to September this year, several months after an earthquake and giant tsunami devastated Japan's Fukushima Daiichi power station.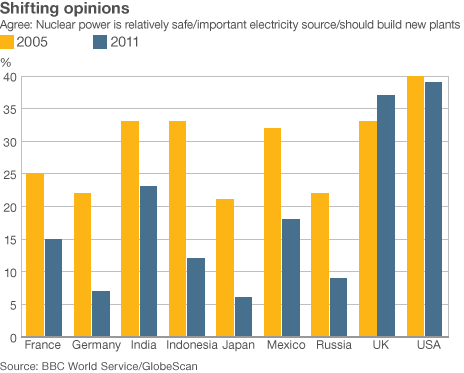 Rising tide
GlobeScan had previously polled eight countries with nuclear programmes, in 2005.
In most of them, opposition to building new reactors has risen markedly since.
In Germany it is up from 73% in 2005 to 90% now - which is reflected in the government's recent decision to close its nuclear programme.
More intriguingly, it also rose in pro-nuclear France (66% to 83%) and Russia (61% to 83%).
Fukushima-stricken Japan, however, registered the much more modest rise of 76% to 84%.
In the UK, support for building new reactors has risen from 33% to 37%. It is unchanged in the US, and also high in China and Pakistan, which all poll around the 40% mark.
Support for continuing to use existing plants while not building new ones was strongest in France and Japan (58% and 57%), while Spaniards and Germans (55% and 52%) were the keenest to shut existing plants down immediately.
In countries without operating reactors, support for building them was strongest in Nigeria (41%), Ghana (33%) and Egypt (31%).
Atlantic oddity
Although the survey cannot determine definitively whether the Fukushima disaster was responsible for changes of opinion, it appears likely.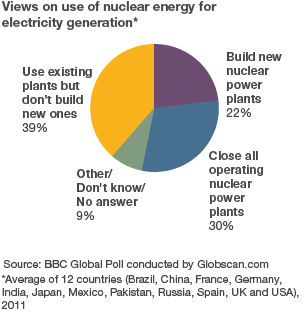 "The lack of impact the Fukushima nuclear disaster in Japan has had on public views towards nuclear power in the UK and US is noteworthy," said GlobeScan chairman Doug Miller.
"This contrasts with significantly increased opposition to nuclear new-build in most countries we've tracked since 2005."
Other pollsters have also found continuing support in the UK for nuclear energy.
The BBC/GlobeScan poll is broadly consistent with other global polls as well.
In June, both Ipsos-Mori and the Japanese Asahi Shimbun newspaper found drops in support for the technology in most countries, with support continuing in a number including the US.
The Ipsos-Mori poll found that nuclear enjoyed the lowest support of any established technology for generating electricity, with 38%.
Coal fared not much better, at 48%, while solar, wind and hydro all found favour with more than 90% of those surveyed.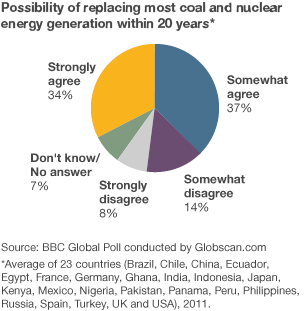 "That renewable energy combined with efficiency can replace coal and nuclear is not only a majority popular belief, but a fact supported by a growing number of authoritative reports," commented Jan Beranek, who leads the energy team in Greenpeace International.

"Nuclear power is a relatively tiny industry with huge economic, technical, safety, environmental, and political problems.

"And the Fukushima accident reminded the world that all reactors have inherent risks."

But bodies such as the International Energy Agency see a continuing role for nuclear power, as the global demand for energy grows and governments struggle to control greenhouse gas emissions at a reasonable cost.

John Ritch, director-general of the World Nuclear Association, said that Fukushima was the first significant nuclear incident in 25 years, and has not caused a single fatality.

"Policymakers must respect public opinion, but they must also respect facts; and the facts still favour nuclear power," he told BBC News.

"Those facts warrant a better educational effort from industry, from governments and from journalists.

"Nuclear power will be even safer after Fukushima, and will continue to mature as the world's premier non-carbon technology."

Posted in