INES directory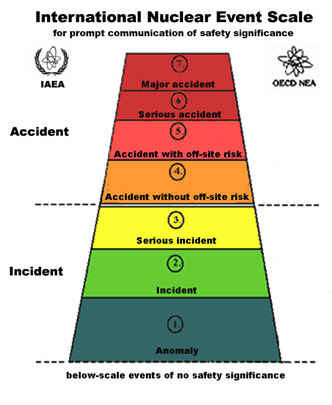 On this page you can browse the directory of reported nuclear and radiation incidents reported to the IAEA.
Please be aware that this directory is not complete, certainly not below INES-2, as different national regulatory bodies have different measures as to what to report to the IAEA and what not.
It is also possible to check a map with all reported the incidents.
To get notified of nuclear incidents as they are added to the directory, follow @ines_events on Twitter or through the RSS-feed.

| Event date | Location | Incident | INES level |
| --- | --- | --- | --- |
| 2016-12-12 | Düsseldorf region | Inadvertent damage of a Se-75 source | 2 |
| 2016-10-19 | Sakarya province | Overexposure of a member of the public | 2 |
| 2016-10-19 | Portland, Oregon/Petnet Solutions | Overdose to Nuclear Pharmacist | 2 |
| 2016-10-07 | University Hospital of Umeå | Cyclotron operated with an open bunker door | 2 |
| 2016-08-25 | Boguszow-Gorce, Poland | Loss of a device containing radioactive sources | 1 |
| 2016-08-24 | Mistras Group/Deer Park Texas | Overexposure to Radiographer | 2 |
| 2016-08-15 | | Electronic Personal Dosimeter went into Alarm during X-ray Radiography Operations | 2 |
| 2016-07-13 | Hopkins, SC, USA/Westinghouse Fuel Fabrication Factory | Excessive Deposits of Material Containing Uranium In Scrubber | 2 |
| 2016-05-11 | Deer Park Texas/Mistras Group, Inc. | Overexposure to Radiographer | 2 |
| 2016-04-20 | FUKUSHIMA-DAIICHI | Leakage from Piping Transferring RO-Concentrated Water to G-6 Tank Area | |
| 2016-03-11 | KAKRAPAR-1 | Leak from primary coolant system at Kakrapar Atomic Station-1 | 1 |
| 2016-03-07 | waste management company | A sealed radioactive Cs-137 source contaminated the premises of waste management company | 1 |
| 2016-01-27 | Tampa, Florida / Cardinal Health | Worker Overexposure | 2 |
| 2015-12-15 | Bac Kan cement company/Bac Kan province | Loss of radioactive source (Cs-137, Bac Kan, 2015) | 1 |
| 2015-11-11 | Pecos, Texas/Nondestructive and Visual Inspection | Overexposure to Radiographer | 2 |
| 2015-09-23 | Islamic Republic of, Oil refinery Company | Overexposure of two industrial radiographers | 3 |
| 2015-09-15 | FUKUSHIMA-DAIICHI | Leakages of water from the dikes in tank areas storing contaminated water | |
| 2015-08-27 | Rio Turbio, Santa Cruz | Radiographer Overexposure | 3 |
| 2015-08-20 | Idaho Falls, ID/ International Isotopes, Inc. | Overexposure to Radiation Worker | 3 |
| 2015-08-18 | BLAYAIS-4 | Irradiation of a worker during scheduled NNP outage at Le Blayais | 2 |